Now that you have decided on a destination wedding and have picked the location and the date, next on your to do list is to start planning for your save the dates. For destination weddings, you want to send out the save the dates at least six months before the wedding. That will give your guests enough time to plan for vacation time from work, save up for travel expenses and start making the necessary arrangements. So make sure you give yourself enough time to plan the photo shoot, pick the perfect photo to create the save the dates and delivery time. You should probably start about three months prior to your send by date.
Ok, so now that you have all that figured out, it is time to start dreaming about that perfect picture you will be taking with your fiancé, gazing into each other's eyes while walking along the beach. The fun you will be having laughing and acting silly as you take your engagement photos. This was one of the best moments for us. The fun of having a destination wedding is that you can incorporate the destination theme into all areas of the wedding planning. Here are some ideas to make your save the date announcement as unique as your wedding:
First, let me share what we did for our save the dates. Since we never told anyone we were engaged, we used our save the dates to announce to our family that we were engaged! We got engaged in Costa Rica and knew we were getting married there so we decided to make that our theme. We bought backpacks for everyone and had them embroidered with their unique nicknames and the date of our wedding. Inside we included a boarding pass and some information on Costa Rica. We found somebody on Craigslist to design our boarding passes so they were pretty affordable. If you were thinking of also having a boarding pass, check out the links below for some great and affordable options.
Save the date backpack from our wedding

Save the date from our wedding
BOARDING PASSES
Zazzle.com has a wide variety of boarding passes you can choose from and customize. They are pretty affordable and often have additional discounts so definitely check them out especially if you are having a big wedding. The boarding pass below is about $1.63 per boarding pass.
This other example from Zazzle is $2.29 per boarding pass.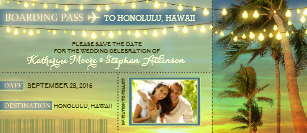 Etsy.com is another site that has personalized boarding passes at affordable prices. The option below is in a PDF format that will be emailed to you so you can print at home or with a local printer. The cost for the design is $15.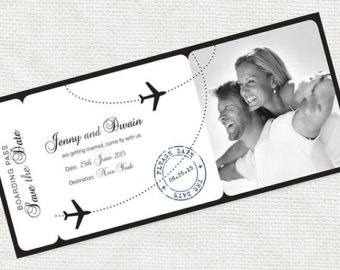 This other option from Etsy, is a boarding pass you can customize to have a magnetic backing. The price varies per quantity and if you choose the magnetic option. For one-sided printing and no magnetic backing, the price for 50 boarding passes is $150. Of course there are many more options to choose from so spend some time perusing the site and I am sure you will find one that is perfect for you!
Savethedateoriginals.com has more options for magnet backing if that is something that you are interested in. This option below is available for $92 for 50 magnets including shipping. The price varies from there depending on the quantity ordered.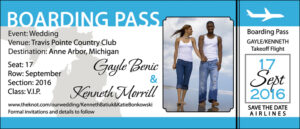 SMALL SUITCASES
If you want something a little more creative than a boarding pass and have limited guests, you can use small suitcases and fill them with information on your destination and details of your wedding. We did this for our actual invitations. Since we had a small wedding we only needed 9 suitcases.
We found our suitcases at Michaels. I couldn't find them online so you may have luck at your local Michaels. Here are some similar ones I found online:
This from homedepot.com is $35.43.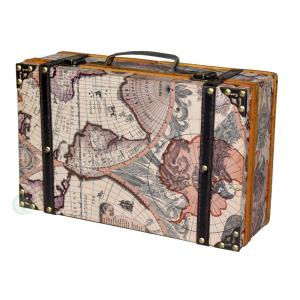 This on is from Target.com and is a little pricier at $69.99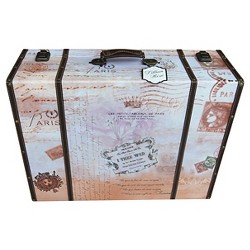 If you are a DIY bride, here is a link on how to create your own cardboard boxes from diyprojects.com This would be a great option because instead of using regular paper, you could incorporate a map of the region that will be hosting your wedding for a very unique suitcase!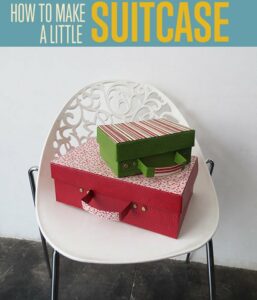 SAVE THE DATE T-SHIRTS
If you want to send a save the date on something that your guests can wear even after the wedding, why not create a save the date t-shirts. The one below is from bridalpartytees.com. You can customize color and details of the wedding. They offer several designs. The design below is $32.47 each.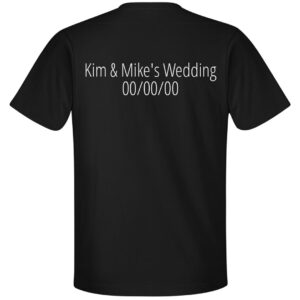 This design is from Etsy.com and goes for $16.77 each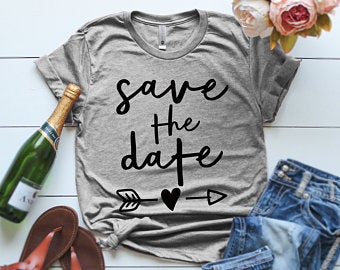 I found some other options on spreadshirt.com. I was unable to download a picture so just linking them here. Their prices range from $19 to $30 each. Go check them out.
MESSAGE IN A BOTTLE
How about sending out a message in a bottle for your save the dates?
I found these miniature bottles from Etsy.com. The ones in the picture are about $2.34. There are many to choose from and most of them customizable so if you don't find exactly what you are looking for, try contacting one of the sellers and see if they can customize to exactly what you need.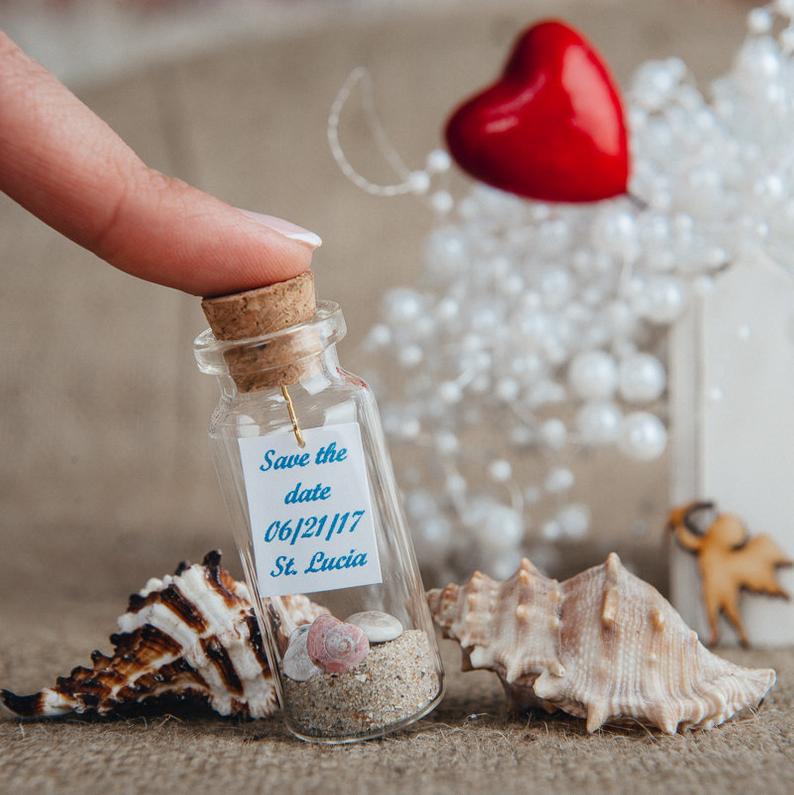 For those DIY brides, below is a link where you can buy supplies from sandartsupplies.com to create your own message in a bottle save the dates. The items are separate so you can get a lb of sand for $2.39 and the empty bottles are about $1.69 per bottle depending on quantity. If you also want to include the seashells they will run you about 700 miniature shells for $5.95. They also have the boxes you can ship these in for $.79 each.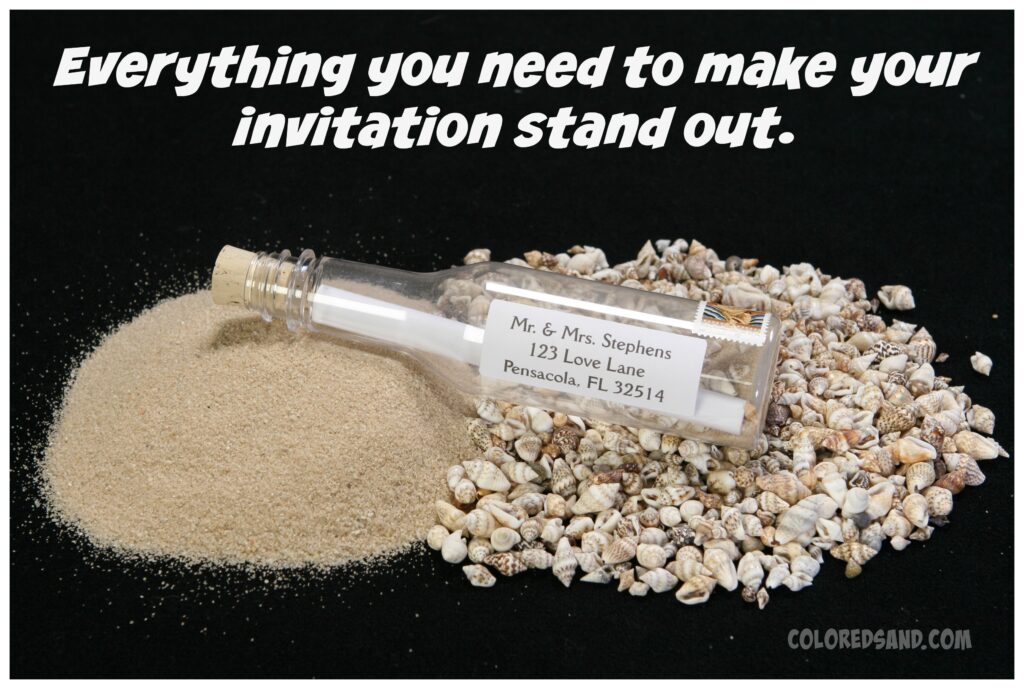 REGIONAL PLANT
If you want to have a green friendly save the date and something that will really last, how about a plant from the region of where your destination wedding will be held. Here is an example of a bride that used a succulent for her save the dates. Her blog can be found at ohsobeautifulpaper.com This is one of my favorite ideas and if I have a vow renewal in the future, I will definitely send out a flower or plant for my invitations.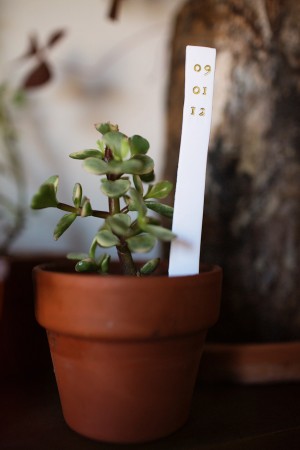 If you are having a large wedding, a plant may be too expensive and too cumbersome. Another great option would be to send seeds from a plant or flower of your region. It is still an environmentally friendly option but much easier to ship and much more affordable. Here is a lovely example that costs $.37 per packet from americanmeadows.com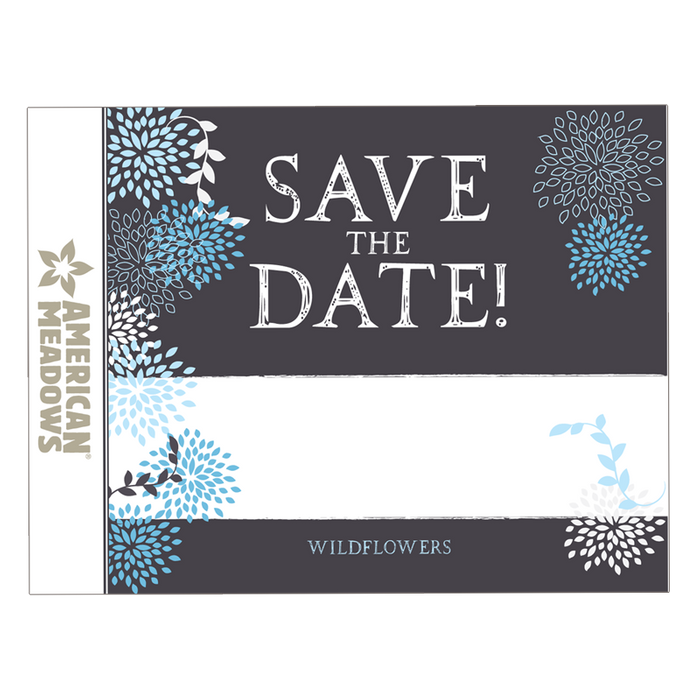 SAVE THE DATE ORNAMENT
If you are having a winter destination wedding or are sending your save the dates around the holidays, how about sending a save the date ornament? What a beautiful way to commemorate your wedding. The example below is from personalizationmall.com. It costs $11.99 each. They have a wide variety so you should be able to find an ornament that fits your style.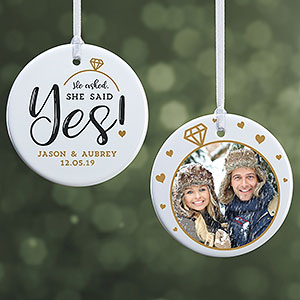 This other example is from etsy.com They start at about $10 each and go up depending on the customization.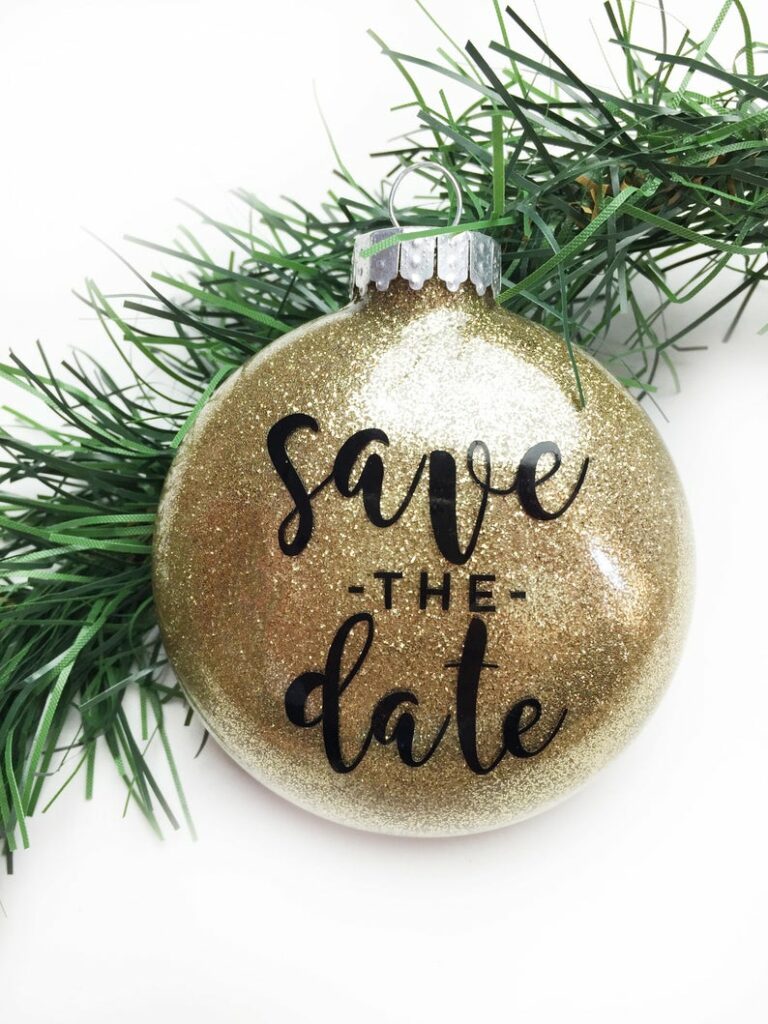 If you want a DIY option, below is a great tutorial from thekimsixfix.com You can engrave details about your wedding and can customize the design you want.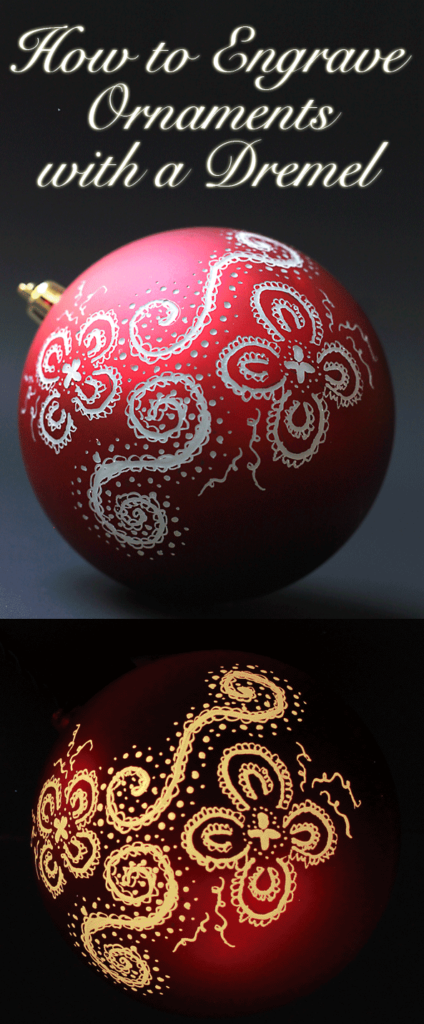 Here is another DIY example comes from clairmakesbelle.com It's simple yet beautiful and very customizable.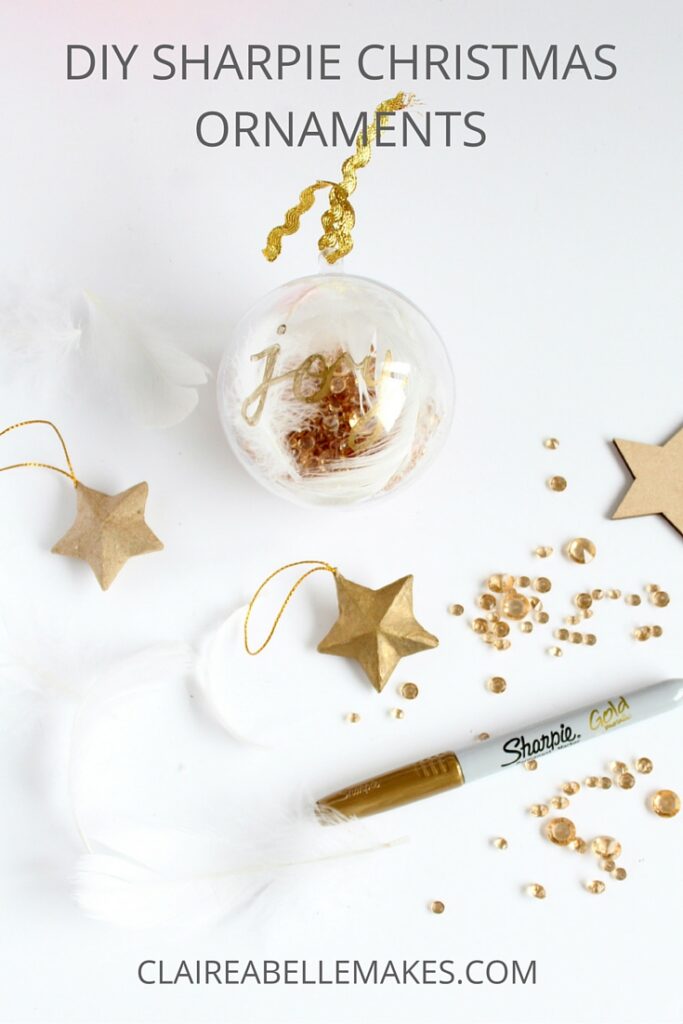 BEACH TOWEL
How about a beach towel embroidered with your wedding information. They will prove useful for when your guests are enjoying the beach before or after your wedding. Below is a picture of what we did for our guests as part of their welcome goody bag.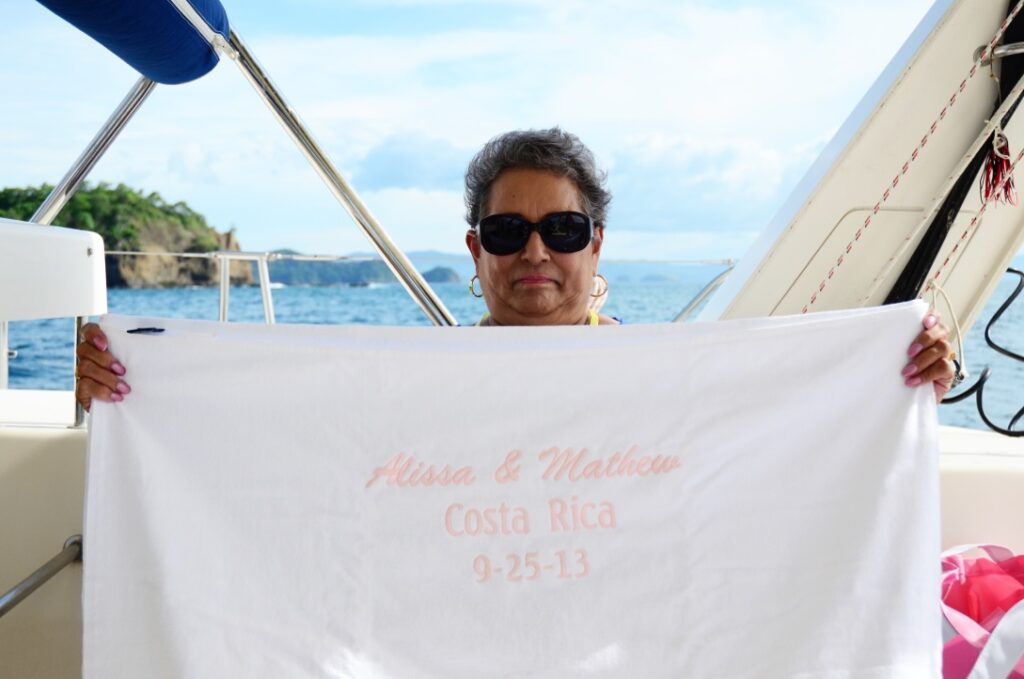 The same embroider who did the backpacks for our save the dates provided and embroidered these towels for us. Embroidery is a little pricier than screen print but since we had such a small wedding we didn't mind spending a little extra on the few towels we needed. A more affordable option would be to screen print your towels. The one below from beachtowels.com are about $15.96 each for 50 towels. They offer free shipping and no set up fees.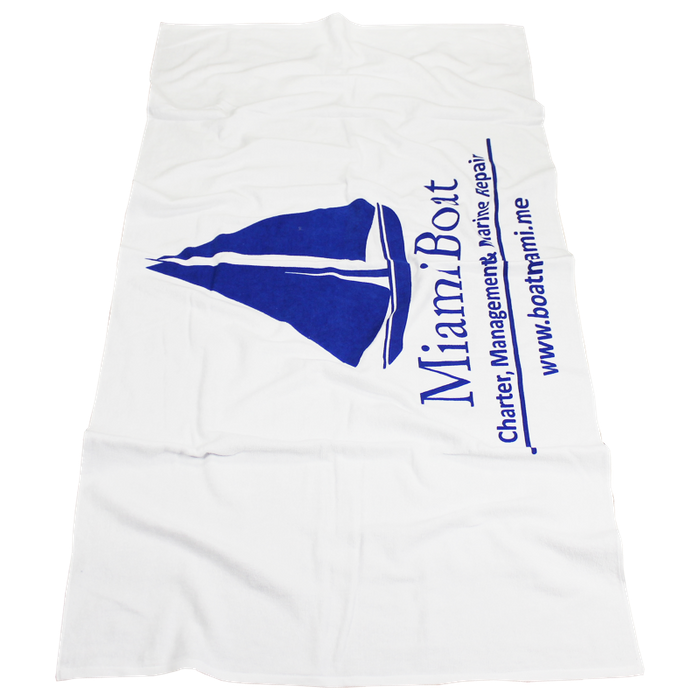 I found another option at bagsoflove.com where you can upload a picture onto the towel. It is such a cute idea so check out their website. Prices start at about $32 per towel.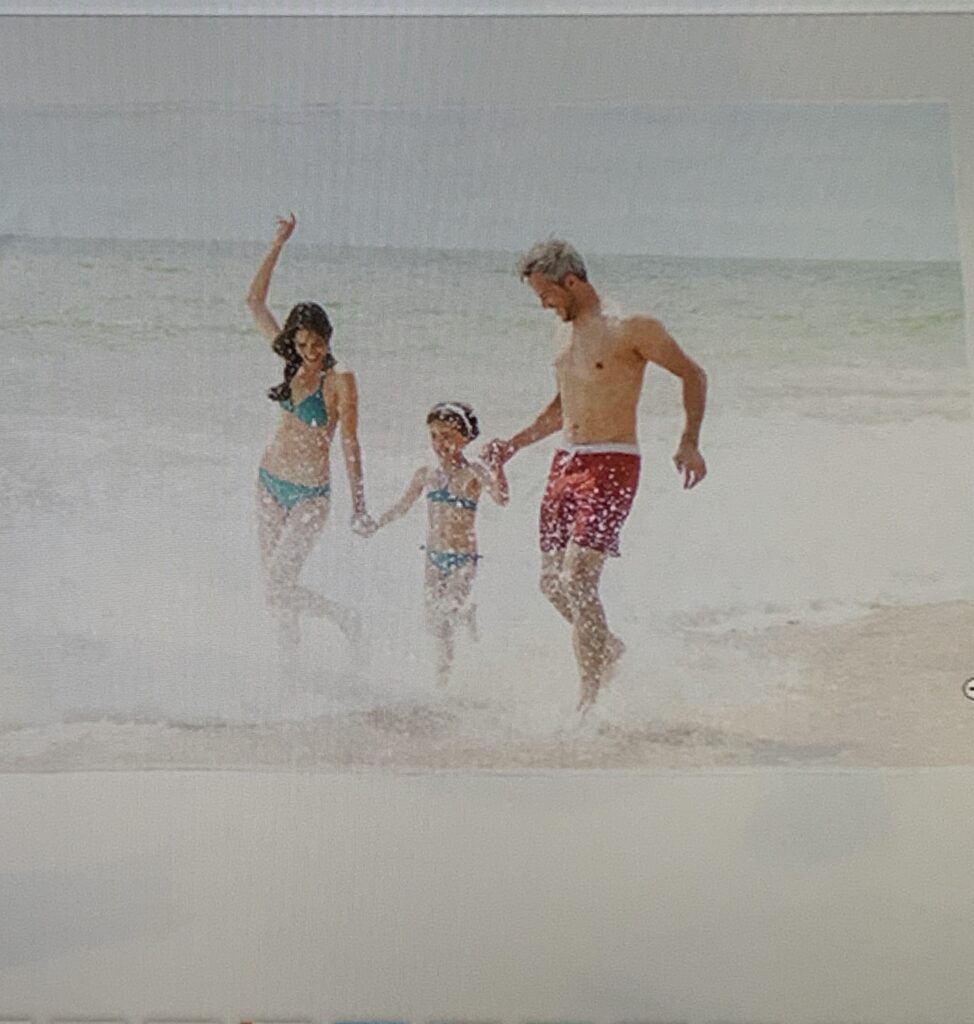 WINE THEMED SAVE THE DATES
If you are traveling to a winery for your wedding, why not send a save the date bottle of wine so your guests can toast to your upcoming wedding?
At WindsorVineyards.com you can customize the labels on their bottles using one of their templates or you can upload your own design. You then select the wine you want the label on. They have wines from $12.00 per bottle up to about $50 per bottle depending on the wine you choose.

Another site that sells wine and custom labels is personalwine.com You can choose to purchase the wine from them or you can just purchase labels and select your favorite wine elsewhere. Labels start at about $22 for a set of 12 labels.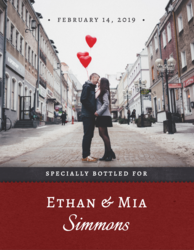 Another choice for wines and/or labels can be found on customwinesource.com Prices vary depending on the label but they start at around $1.33 per label if you order 50 labels. Price goes down the more you order.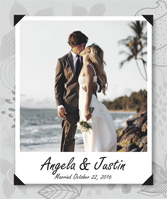 If you don't have the budget for a bottle of wine but still want to stay with the wine theme, try sending engraved wine glasses with your wedding date. The cute ones below are from discountmugs.com They are $3.66 each if you order 50. Prices go down the more you order.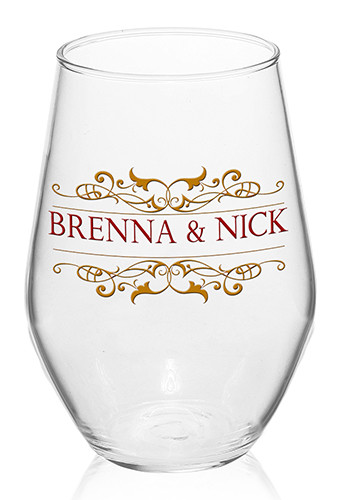 The stemless wine glasses below are from nicepricefavors.com and start at $1.21 each.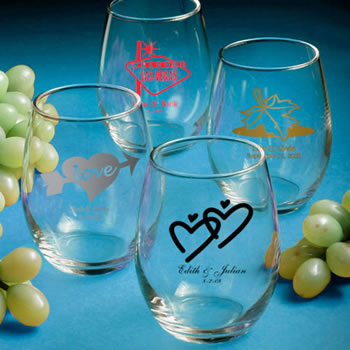 VIEW-MASTER SAVE THE DATE
If you have a larger budget, and would like to splurge on your save the dates, you might consider creating a view-master with pictures from your engagement session and/or pictures from the location of your wedding. You can get as creative as you want since you can have about 7 pictures in your view-master. Check out the one below from Image3d.com The picture below is from offbeatbride.com It has a great write up of the company and some ideas on destination view-masters. And they are offering a 10% discount to their readers. Cost can run about $20 for each view-master depending on customization and quantities.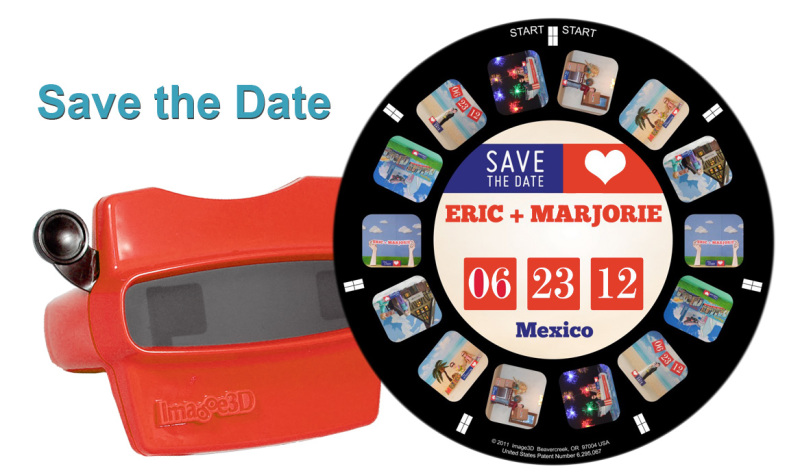 WINTER WEDDING DESTINATION
If your destination wedding will involve snow, why not send a snow globe picture frame for your save the dates? This one below from qualitylogoproducts.com is fully customizable and will cost about $9.22 each. There is an 18 qty minimum for this order.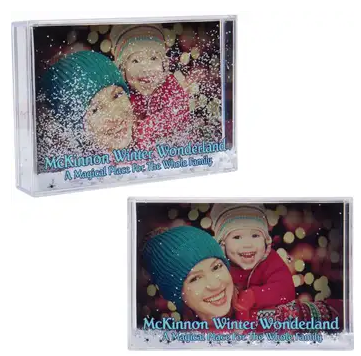 For a traditional globe, I found these on amazon.com that are fully customizable. You can add a picture and a details of your upcoming wedding. They are $13.99 each.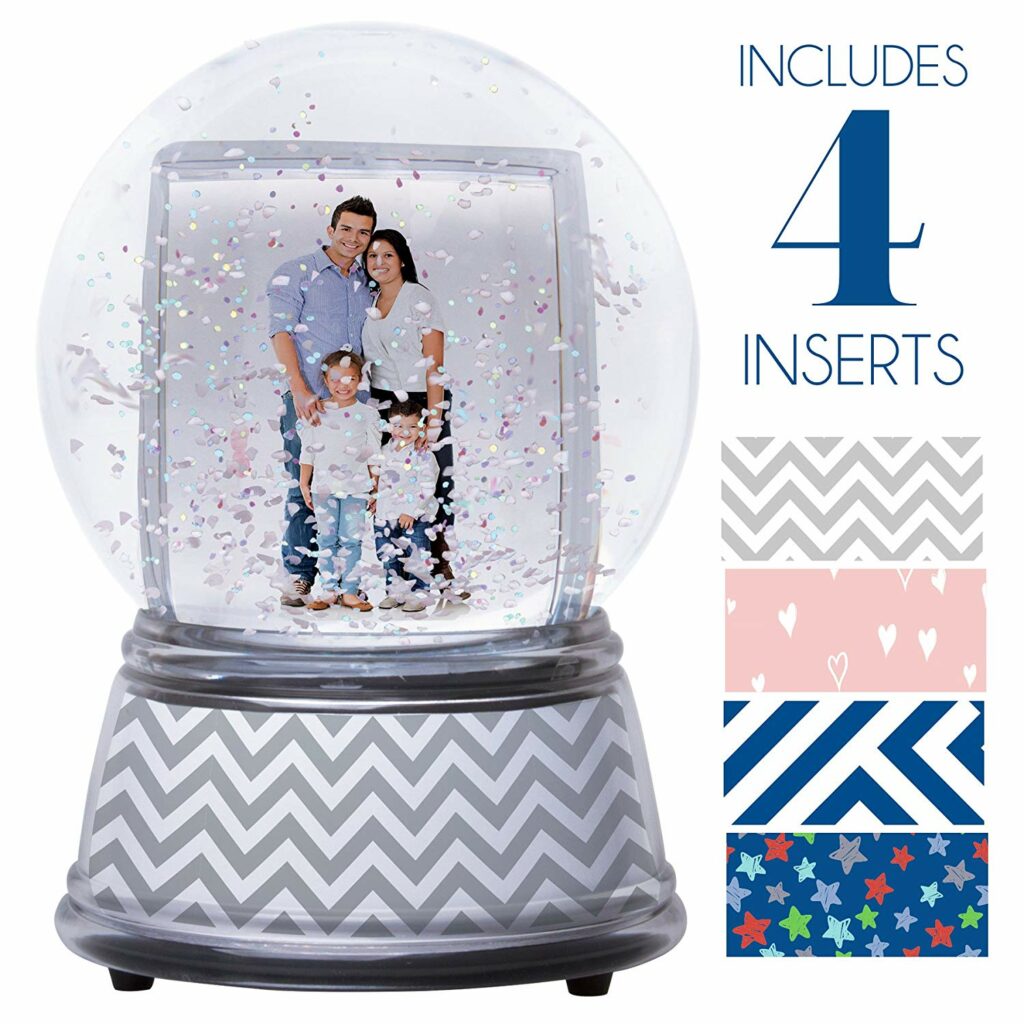 PUZZLES
Last but not least (because I could go on and on) a very creative way to announce your upcoming wedding is to have your guests complete a puzzle.
This one if from invitationsbydawn.com. They start at about $3.96 each for 48 puzzles and the price varies depending on quantity ordered. There are several templates so you can choose the one that works best with your picture.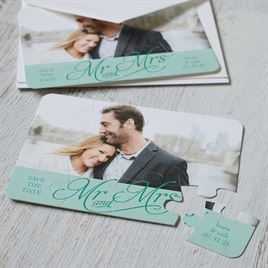 This template from printerstudio.com allows you to pick three pictures. This helps when you can't decide on just one picture for your save the dates. This particular template costs $4.99 each for 50 puzzles. The price varies depending on quantity.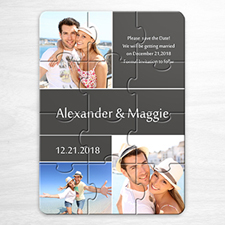 So there you have eleven ideas for you to start thinking about your save the dates. This is the first thing that your guests will see and will set the tone for your upcoming wedding. Be creative and have fun!! I would love to hear other ideas of what you did for your save the dates or what you are thinking about doing.
Until next time…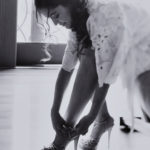 AM